CriptoBreakfast 7.12.2020 – Grayscale is betting on Ethereum
Analysis: Which five cryptocurrencies are to be monitored this week; At Grayscale, they see a new investment opportunity in Ethereum; In 2021 cryptocurrencies will be exposed to the same macroeconomic problems as traditional investment classes.
---
2.2.2020, when the CBDX token was verified by a smart contract and 2,078,882 CBDXs were issued for the territory of the Republic of Slovenia, we did not imagine that supply will run out so fast. In line with the dynamic price growth model (DPMC), the price of the CBDX token rose to € 2.0925, from an initial token value of € 0.20. Therefore, on 31 May 2020, we issued the Croatian supply of tokens 4,106,138 CBDX, which will raise the price to € 8 and prepared a wallet for you, through which you can now manage your tokens in one place.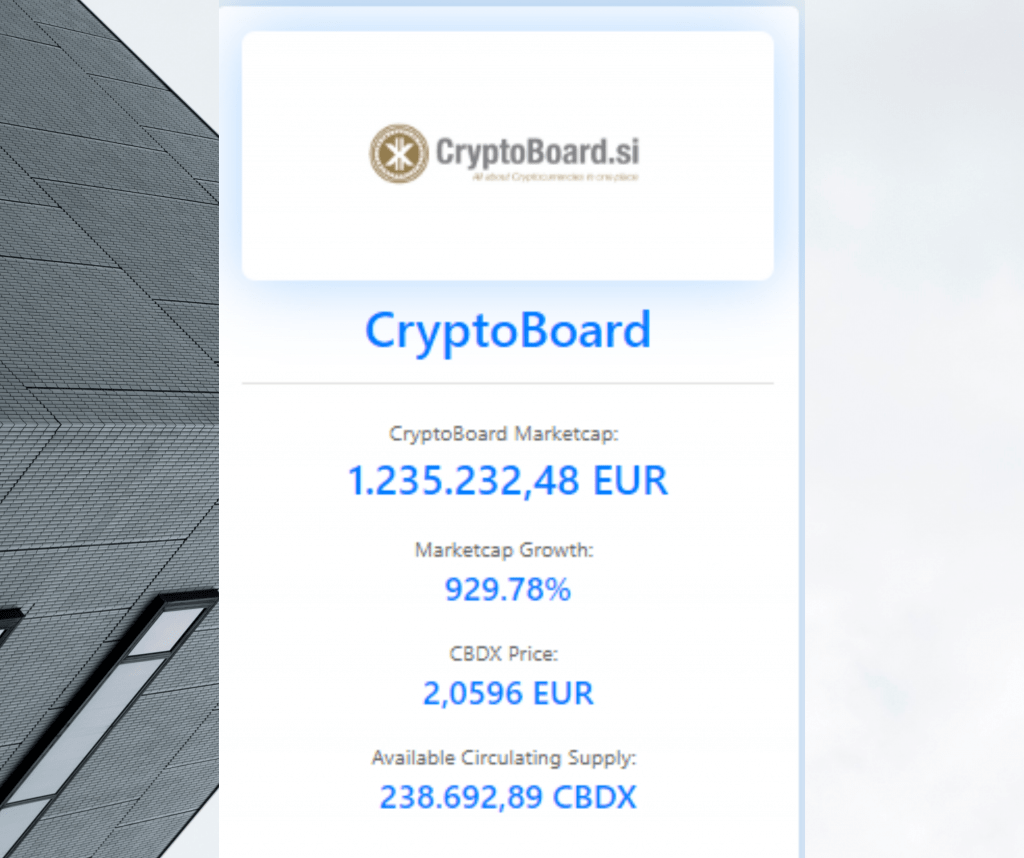 REGISTER AND REDEEM 20 EUR IN CBDX TOKEN
---
Bitcoin consolidation continues in the $ 19,000 range. According to some analysts, the accumulation of Bitcoin near the historically highest value is a very positive signal that justifies a longer-term bullish mood. Short-term forecasts of the value of the largest cryptocurrency have virtually divided investors into two poles. While the first half expects an immediate further growth, the second half is looking after a short-term decline. Ethereum persists in the $ 600 range and XRP stagnates at $ 0.60.
Although Bitcoin was Grayscale's first choice, in a recent interview with Bloomberg, Grayscale CEO Michael Sonnenshein said, they will be investing very seriously in Ethereum from now on, seeing it as a growing investment class. This year, many interesting DeFi projects have grown on the Ethereum network, 1.12. the upgrade to Ethereum 2.0 has started successfully, which Grayscale estimates as positive signals of further growth in value.
2020 was the year when cryptocurrencies, especially Bitcoin, began to respond more actively to macroeconomic trends and indicators. While critics continue to argue that the crypto market responds only to its own questions and movements, it appears that Bitcoin's purchases by MicroStrategy, Square and some others were a reaction to low interest rates and a troubled dollar. The trend of new entries is likely to continue in 2021, as many industry representatives and analysts expect low interest rates and quantitative easing (QE) to remain a constant part of the macroeconomic landscape for some time to come. While some expect deflation to be more likely in the first half of the year, others expect inflation or currency devaluation to occur in the second half of the year. All in all, it suggests that 2021 could be a favorable year for cryptocurrencies in terms of the macroeconomic climate.