CryptoBreakfast 30.11.2020 - Guggenheim Partners: Bitcoin up to $ 150,000 in 2021
Price analysis: TOP5 cryptocurrencies to be monitored this week; Guggenheim Partners is entering the crypto with a $ 150,000 forecast for Bitcoin by the end of 2021; Ripple is cashing in a third of the MoneyGram shares it bought last year; Why Bitcoin will be more profitable than gold and bonds even in the post-Corona period; Video: The rapid recovery in the price of Bitcoin continues.
---
2.2.2020, when the CBDX token was verified by a smart contract and 2,078,882 CBDXs were issued for the territory of the Republic of Slovenia, we did not imagine that supply will run out so fast. In line with the dynamic price growth model (DPMC), the price of the CBDX token rose to € 2.0925, from an initial token value of € 0.20. Therefore, on 31 May 2020, we issued the Croatian supply of tokens 4,106,138 CBDX, which will raise the price to € 8 and prepared a wallet for you, through which you can now manage your tokens in one place.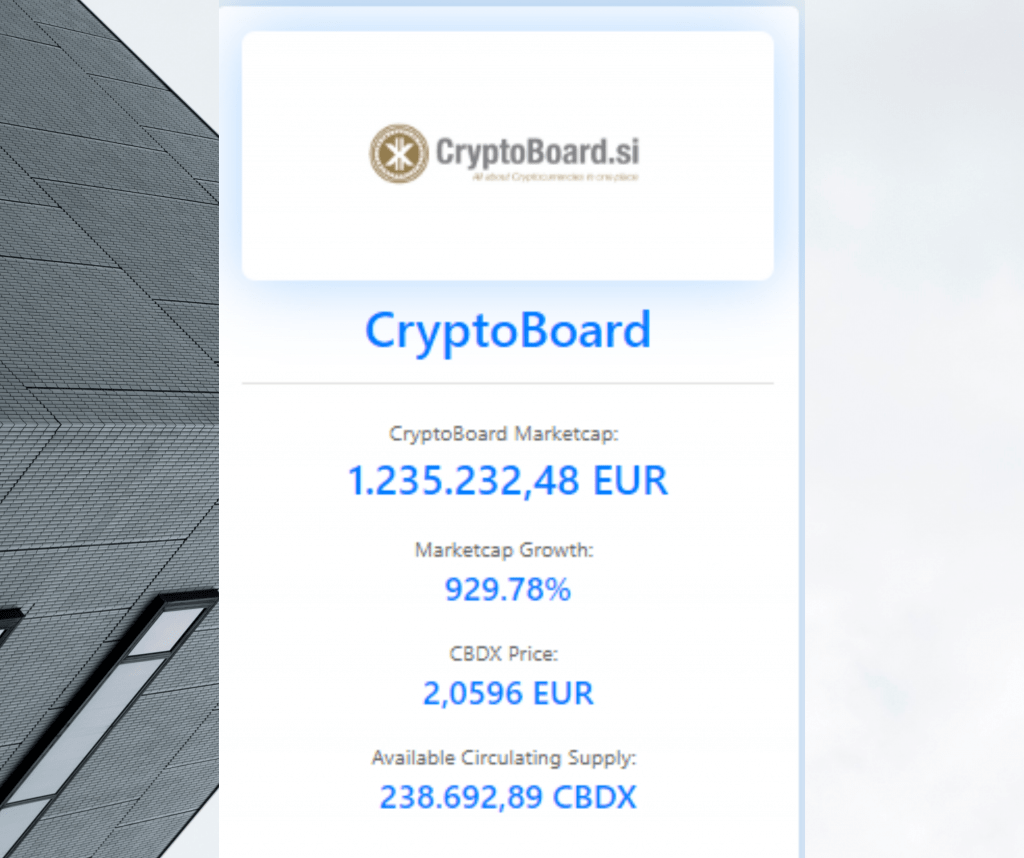 REGISTER AND REDEEM 20 EUR IN CBDX TOKEN
---
After two consecutive corrections of Bitcoin in the second half of last week, we witnessed a weekend that was more friendly to the value of the largest cryptocurrency. Bitcoin is again trading well above $ 18,000 and is currently valued at $ 18,700. The news of the day is the announcement, that one of Wall Street's more recognizable investment companies Guggenheim Partners is entering the crypto world. They has asked the SEC for permission to use 10% of the 5.3 billion in management to buy Bitcoin through Grayscale funds. According to them, the value of Bitcoin may rise to $ 150,000 by the end of 2021, if other investment companies follow their move. Until then, check out the forecasts for the movement of cryptocurrency prices for this week.
Although the "fork" on the Ripple network (XRP), which ends on December 12, is still actual and is filling up the news, the blockchain payment system has decided to sell one third of the shares of MoneyGram that they bought in 2019. This is an interesting move as the companies operationally cooperate in international and cross - border payments and settlements. However, Ripple assures that this is only a financial transaction, as they have generated 260% return on MoneyGram shares in a good year.
Increasingly louder and more frequent are the predictions of various analytical companies that in 2021, which they believe will already represent the period after Covid-19, Bitcoin will achieve better results than gold and bonds. It is estimated that with the end of the Covid crisis, the migration of funds from investments that represent a safe haven during the crisis will begin. Thus, the gold market, as well as the market for the longt-term bonds, is expected to experience an outflow of funds into stocks and cryptocurrencies.